Oswyn Murray
D.Phil., F.S.A. Emeritus Fellow of Balliol College, Oxford University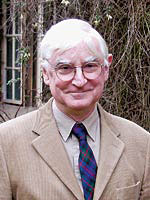 C

ontact

Balliol College, Oxford, OX1 3BJ

e-mail: oswyn.murray@balliol.oxford.ac.uk
Affiliations
Founding Director of the Bibliotheca Academica Translationum.
Research themes
Main publications
Books
Sympotica: a symposium on the symposion (Oxford, 1990); revised paperback edition with addenda, 1994.

The Greek City from Homer to Alexander (Oxford, 1990), ed. with Simon Price; French translation 1992; Greek translation 2007.

Latin Poetry and the Classical Tradition: Essays in Medieval and Renaissance Literature (Oxford-Warburg Studies: Oxford, 1990), ed. with Peter Godman.

Early Greece (second edition London and Harvard 1993): German edition 1995 (6th edition 1998); French edition 1995, Italian edition 1996; Polish edition 2005; Chinese edition forthcoming.

In Vino Veritas (British School at Rome, 1995), ed. with Manuela Tecusan.

Jacob Burckhardt, The Greeks and Greek Civilization (edited translation, 1998).

Edward Bulwer Lytton, Athens: Its Rise and Fall Bicentenary edition edited by Oswyn Murray (London 2004).

A Commentary on Herodotus Books I-IV by David Asheri, Alan Lloyd, Aldo Corcella; edited by Oswyn Murray and Alfonso Moreno (Oxford 2007).
Articles
"Ancient History 1800-72' and 'Ancient History 1872-1914" in The History of the University of Oxford, vols VI-VII ed. M.G. Brock and M.C. Curthoys (1997 and 2000).

"Gnosis and Tradition", Studia Graeca et Latina in honorem Pavel Oliva, Eirene 35 (1999), 61-77.

"Burckhardt, Nietzsche and Socrates", Jacob Burckhardt, Storia della cultura, storia dell'arte ed. M. Ghelardi, M. Seidel (Venezia 2002) 55-61.

"Burckhardt and the Archaic Age", Jacob Burckhardt und die Griechen ed. L. Burckhardt, H.-J.Gehrke (Basel 2006) 247-61.

"Greek History in the Age of Philhellenism", The Contribution of Ancient Sparta to Political Thought ed. N. Birgalias, K. Buraselis, P. Cartledge (Athens 2007) 345-89.

"Niebuhr in Britain" (Madrid 2005, forthcoming)

"In search of the Key to All Mythologies" (Rome 2007, forthcoming)